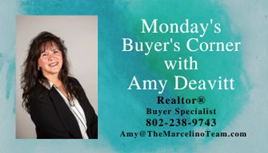 Customer vs. Client
When you review the differences between customer and client, what questions come to mind? Did you notice yourself saying, "well, I would want my agent to do that for me." Or " well, I would need an agent's help for that."
If that is the case, you likely will want to have a conversation with an agent about becoming a client. If you are moving to Vermont, it is possible obtaining Buyer Representation may be different than where you come from. That is where we can get started. This visual demonstrates the differences of what I can do for you as both a customer and client.
Clients are entitled to higher level of service than customers. Once you become a client, I owe you fiduciary duties which means I have a very specific responsibilities, obligations and high standards of loyalty to you!
It is my mission to build long lasting relationships with my clients that will ensure you have a trusted Real Estate partner to turn to again in the future as well as refer to your family and friends.